Learn how to be more sustainable and reduce your travel-related carbon footprint. Based on the 2019 Greenhouse Gas Emissions Inventory, air travel accounted for 13% of UC Berkeley's total greenhouse gas emissions.
To support the university's Carbon Neutrality goals, we encourage all staff, faculty, and students to adopt sustainable travel practices. Please use this sustainable travel guide before booking and during your next trip.
Evaluate Your Trip
Assess your meeting to determine if travel is necessary. Many meetings can now be effectively conducted virtually. UC Berkeley utilizes some Video Conferencing solutions (for example, Zoom and Google Meet), which are available to all staff, faculty, and students.
Travel Sustainability Event
When
Tuesday, November 7, from 11 am to 3 pm
Where
Recreational Sports Facility
2301 Bancroft Way, Berkeley, CA 94720
About the event
The UC Berkeley Travel Team is partnering with the Campus Sustainability Office to offer a sustainable travel event. This event will focus on sustainable options for business travel, including how to reduce our travel-related carbon footprint. Attendees will learn more about what sustainable travel is and how to make more informed decisions when booking for both business and personal travel.
At the event, there will be raffle prizes, food, drinks and vendors focused on sustainability and travel. Some of the vendors who have either confirmed or are tentative, include Hertz (to demo one or more of their electric vehicle fleet), Southwest, United, Delta, Emirates, Cathay Pacific, and Marriott. We will post updates to the Sustainable Travel Guide page on the Travel website.
Please reach out to the Travel Team with any questions at travel@berkeley.edu.
Air Travel
Use Direct Bill and ConnexUC
Utilizing Direct Bill and ConnexUC to bill your airfare to UC Berkeley directly will save you time and money. The UC Travel Center (UCTC) and BCD Travel's Concur portals enable travelers to search and sort flight choices by emissions.
Instructions
Step 1. Once you input your flight search parameters, select 'Emissions' from the 'Sorted By' drop-down menu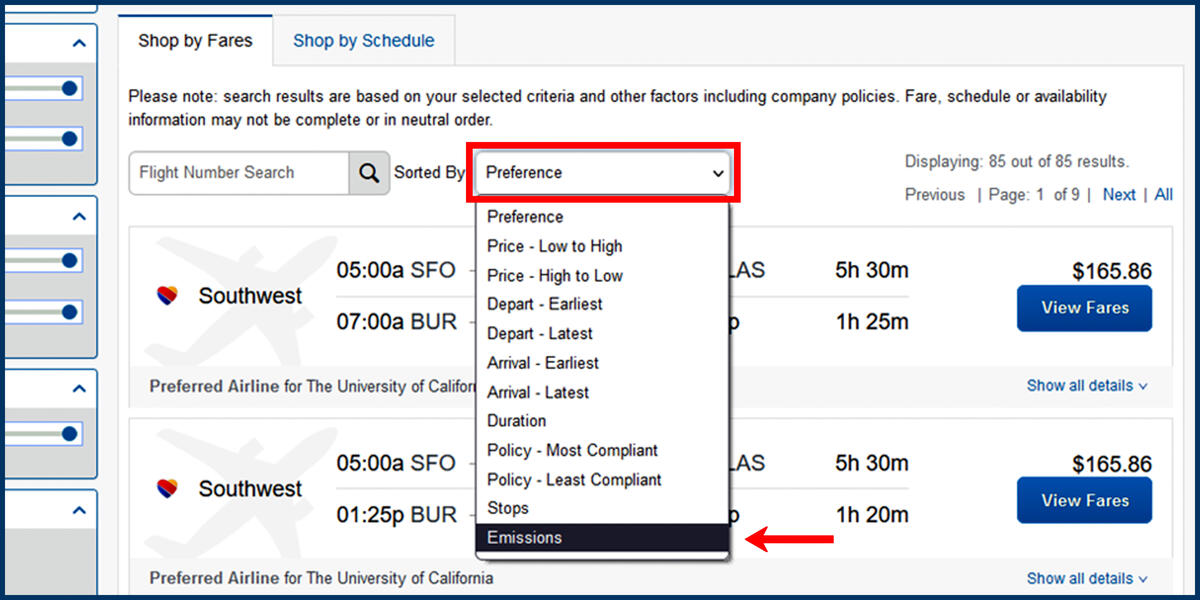 Step 2. Click 'View Fares' to expand any flight selection

Step 3. Click on 'Flight Details' to expand any selection

Step 4. Note the pounds of CO2 emissions in the flight information sections

Book Direct Flights
Choosing to fly non-stop eliminates half of a single flight's emissions as you are avoiding extra landings, takeoffs, and taxi times.
Use a UC Travel Partner
Utilize a UC Travel partner (UCTC or BCD) for complex or multi-leg trips. Full-service agents are experts at identifying routes and airports that will work best for your trip, cutting down on extra travel time and expense.
Fly Coach or Economy class
A World Bank study noted that the emissions associated with flying business class were about 3 times as great as flying coach. In business class and first-class, seats are larger, so fewer people are being moved by the same amount of fuel. In addition, the study estimated that a first-class seat could have a carbon footprint 9 times as great as an economy seat.
Use an Electronic Ticket
If possible, do not print your airline tickets, and use an e-ticket. With many passengers flying out of San Francisco International Airport and Oakland International Airport every day, that equates to thousands of single-use pieces of paper being discarded. Please utilize digital e-tickets on your Smartphone or digital device where applicable.
Car Travel
Carpool with Your Colleagues
When traveling with others, carpool to reduce the amount of fuel and carbon emissions.
Choose an Appropriate-Sized Vehicle
If you are not traveling with colleagues, consider a smaller vehicle.
Rent an Electric or Fuel-Efficient Car
When booking through ConnexUC, you can get access to all-electric or hybrid vehicles at participating locations that will meet UC Travel policy guidelines for reimbursement. Hertz has Teslas available at SFO, LAX, SJC, OAK, ATL, FLL, MIA, JFK, LGA, ORD and many other major airports. Hertz, as well as Dollar and Thrifty, also have hybrids available at select airports. Please keep in mind that supplies are limited, so the further in advance you book your reservation, the better chance you have of finding an ell-electric or hybrid vehicle available. Rental vehicles are only reimbursable when booking through the UC contract in ConnexUC.
Instructions
Please use the following instructions to check if the location you are traveling to has an electric or hybrid vehicle available:
Log in to ConnexUC
Go to the Trip Search page
Click the Car Search button
Enter your travel dates and locations
Click the Search button
If booking an electric vehicle, select Hertz in the Results column upon the completion of your search

A list of vehicles that Hertz offers will be displayed
Select a vehicle in the 'Intermediate Elite' category and with 'Electric power' in the description

If booking a hybrid vehicle, select Hertz, Dollar, or Thrifty in the Results column upon the completion of your search

A list of vehicles that the selected rental car company offers will be displayed
Select a vehicle in the 'Intermediate Car Hybrid' category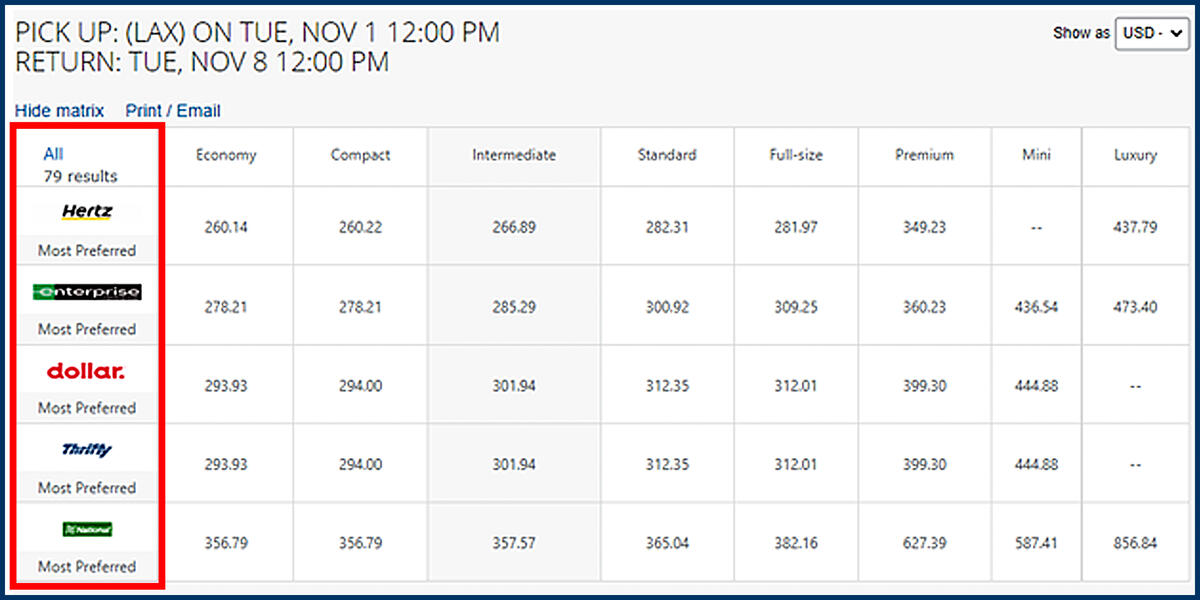 Any vehicle in the Intermediate Car Hybrid category is within policy. As long as the vehicle is listed as Intermediate elite, it should be within policy and reimbursable, but it is always good to confirm this first with your funding approver and/or the travel department if there is any question. The pricing on some of the Intermediate Elite vehicles is variable, and if costs appear to be significantly above other intermediate vehicles, please reach out to us at travel@berkeley.edu(link sends e-mail) and we will be happy to confirm if it is within policy.
Take a Lyft or an Uber
Employees can expense rides by selecting their preferred payment method for trips, routing business ride receipts directly to their work inbox, and switching between personal and professional rides.
Public and Alternative Transportation
Take a Train
Taking a train can reduce your CO2 travel emissions by as much as 90% compared to a plane. The ConnexUC portal offers an Amtrak option where you can book business class.
Use Public Transportation and/or a Bike Share
Using public transportation can further cut down on business travel expenses and can reduce your CO2 travel emissions. When available, take advantage of bike-share programs. Check to see if your hotel offers free bike rentals.
Bay Area sustainable transportation options:
Airport Shuttle Service
Consider an airport shuttle service or public transportation to and from the airport both at home and your destination. Many locations offer great public transportation options and even free services. Consider whether a rental car is needed.
Take a Lyft or an Uber
Walk When it is Convenient
Walking when you are traveling is a great way to see a new place up close, to get a little exercise, and to save on your business travel budget - all while reducing your carbon footprint.
Accommodations
Book LEED-Certified Hotels
Book hotels that are Green Seal or LEED-certified. Hotels with these designations integrate environmental considerations into their business practices to decrease their carbon footprint.
Please refer to the following links to search for LEED-certified green hotels:
All LEED-certified hotels will display their certification on their website. You can look for the LEED logo. Many of these sustainable hotels can be found in ConnexUC. UC partner brand Marriott has a large selection of LEED-certified hotels to choose from. Some hotels offer free bike rentals.
Conserve Energy
Turn off all lights and the air conditioning or heater when not in the room. As you would at home, conserve as much energy as you can when you are not occupying your hotel room.
Reuse Towels
Hang your towels after use. Many hotels encourage guests to reuse towels to reduce energy and water use of washing towels after the first or second use.
Avoid Using the Hotel's Laundry Service
Try to avoid using the hotel's laundry service. Many times, they wash guests' clothes separately, even if there are only a few items to clean.
Leave the Do Not Disturb Sign on the Door
Leave the Do Not Disturb sign on the door for the duration of your stay. This cuts down on chemical cleansing agents, electricity used in vacuuming, and the washing of bed linens.
Try Staying at Airbnbs or Similar Accommodations
Staying at an Airbnb (available via ConneUC) instead of a hotel can make it easier for you to recycle and compost. In addition, you can make your meals and conserve water.
Dining
Choose a Sustainable Restaurant when Dining
There are numerous restaurants to choose from that care about sustainability:
Say No to the Plastic Bags and Straws at Restaurants
Plastic bags and straws account for a large percentage of plastic pollution in the environment due to their inability to be recycled. The US alone goes through over 500 million straws a day. That's enough straws to fill 127 school buses!
Eat Locally
By eating at local restaurants and street food places, you can avoid the use of plastic takeaway containers and utensils. Also, look for businesses that use locally-sourced and/or seasonal produce.
What to Pack to Support Zero Waste
A reusable water bottle and/or travel coffee mug
A reusable takeout container and cutlery set
Reusable straws
Reusable cloth napkins
Reusable shopping bags
Please feel free to search online for other eco-friendly travel-related product ideas.